What's In My Pack: Lexi duPont
On giving back and going big.
Age: 28
Occupation: Pro Skier
Sponsors: Eddie Bauer, K2 Skis, Smith, Swany, Discrete, Play Hard Give Back
It's no secret that Lexi duPont has become one of the most influential professional freeskiers in the industry. Anyone who has met Lexi knows her for her big laugh and seemingly endless positive attitude. An Idaho native, duPont grew up ski racing at Sun Valley and competed in the Freeride World Tour throughout college. Eventually, she made debut in ski films with Warren Miller Entertainment, Poor Boyz and more. More recently, she's harnessed her ski fame as an opportunity to give back and is involved in numerous philanthropic projects.
"I feel like I am truly living and I truly have purpose when I am able to contribute towards the bigger picture," explains duPont. "Helping people and the planet is one of the greatest gifts I can give. Lately, I have been working closely with Protect Our Winters, Rain Forest Action Network and Play Hard Give Back, and try to support them in as many ways as I can. I work hard to bring awareness to some larger issues like climate change, water conservation, and various human rights issues through lifestyle choices, and public speaking."
During the 2015/2016 ski season, duPont traveled to Kyrgyzstan with a large quantity of used ski gear and medical equipment to teach a small community how to ski and help them establish a local ski tourism industry. "I think the biggest thing I learned was how important it is to work with the locals and empower them and their wants and needs instead of trying to change a community from the outside," she says. "We didn't go there to try and change the people but rather work with them to facilitate their dreams."
She's also busy producing a web series called "Water Worshippers," which will bring awareness to resource depletion as well as the "Down to Earth Expedition to Iceland," which Lexi describes as "a human-powered expedition directed towards childhood education, the impact of our diets on the environment and bringing awareness to climate change."
Aside from her passion projects focused on giving back, Lexi recently followed a personal dream to obtain her private pilot's license and took her first solo flight in December 2016. "Flying is in my blood. I come from a family of super accomplished aviators."
She has plans to follow in her family's footsteps in aviation by redoing the same flights as her relatives over the next five to ten years. Aside from philanthropy and flying, Lexi has some serious plans in motion to continue building on her already-successful skiing career. She is currently working with Sammy Carlson and Sebastien Toutant on an edit for the X Games Real Mountain Competition which will be voter-based and will include footage from the three ripping around Revelstoke.
"I am just super stoked to spend some more time in Canada to push my skiing to the next level and show the world that you can still be down to earth and down to adventure."
You're a meditator, what's the number one piece of MENTAL gear you've learned to bring with you when you meditate?
Meditation has become a welcomed routine in my everyday life. The ability to sit with yourself in ever present-centeredness is a great gift. You can't give to others if you don't give the focus and love to yourself first.
When you're heading into the backcountry or to play on the pillows in Revelstoke, what are some things that can always be found in your day pack?
Other than a beacon, probe, and shovel, I like having Voke Tabs (1) for mid-day energy. These natural energy tabs are my secret weapon and can get me out of the woods after a long day of shredding. A Black Diamond Spot Headlamp (2) for sure! The days are short up here in Revy and we usually come home in the dark so a headlamp is key. I always try to have at least four Voile straps (3). They come in handy if equipment breaks and aid in making splints for arms and legs if someone gets hurt.
Weather conditions can often be unpredictable in the mountains. Tell us a little bit about what you do to layer up for long days in the backcountry.
I always rock Mons Royale (4) for base layers. I will wear a thin merino base layer and a thicker merino mid layer on top and bottom. Proper Layering is everything when traveling in the backcountry. You work up a sweat on the way up and can be faced with heavy winds and freezing temperatures on the summit of the mountain. I have an Eddie Bauer IgniteLite Jacket (5) for lightweight warmth. I wear the Eddie Bauer Telemetry Jacket (6) as my waterproof layer. And the Telemetry Freeride Pants (7) are my go-to ski pant.
Do you have any favorites for accessories (hats, gloves, helmet, buff, goggles, etc)?
I always hike in a pair of thin merino gloves and then toss on the super warm Lexi LOVE Mitt (not yet released) when I get to the top. The Lexi LOVE Mitt is my signature glove made by Eddie Bauer and half of the proceeds go to getting inner city kids into the mountains. They are super warm and super waterproof. (8)
Smith Optic goggles (9), helmets (10) and sunglasses (11) are the best eyewear and helmets in the industry. I always make sure to carry a dark lens and a low light lens in case the light changes and some clouds roll in. Discrete also makes the best beanies in the industry (12). I have worn the same black beanie all winter and it still looks good as new. I don't go anywhere without some Stoke Lip & Face Balm from Stoked Goods (13). It is key to protect your face and lips on those cold, windy days.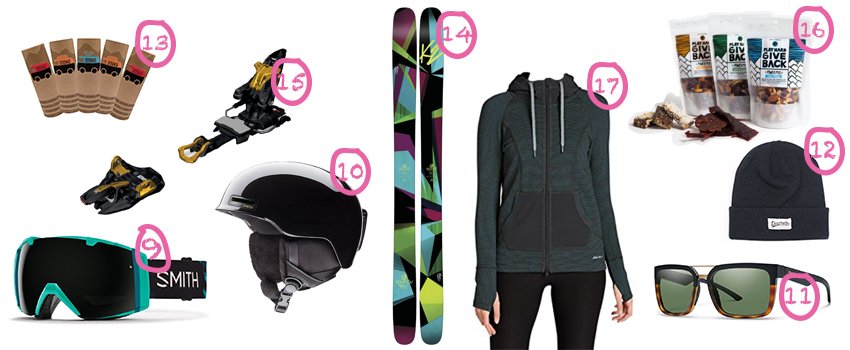 What ski setup are you riding these days?
I ski the K2 Remedy 112 (14) with Marker Kingpin (15) bindings every single day. I am obsessed with this ski and can't bring myself to ski anything else. The tech bindings are also super bomber and can handle anything. From groomers to pow to ice these skis can do anything!
Any road tripping or on-mountain snacks you don't leave the house without?
I don't leave the house without a bag of Play Hard Give Back Trail Mix (16). Not only is it a healthy snack but part of the proceeds go to Higher Ground, a nonprofit that helps people with disabilities get outside and recreate.
What are your go-to après apparel pieces you're wearing a lot of right now?
Eddie Bauer makes some amazing après outfits. They have this super cute Motion Line of leggings and hoodies that are great on and off the hill. I am obsessed with the Summit Hoodie (17) with leggings. I pretty much live in this outfit.
What music is speaking to you lately?
Fat Freddie's Drop is the anthem to my life. I am obsessed with these guys. Always have been and always will be.
Where are your favorite places to ski right now and why?
Sun Valley, Idaho, and Revelstoke Mountain Resort are my go-to hills. I grew up in Sun Valley and there is no place on earth closer to my heart. They have had the best winter in 30+ years and this has opened a new level of inspiration! I also spend a ton of time in Revelstoke because the terrain is challenging and it doesn't stop snowing!
Final thoughts?
Big thank you to my sponsors, Eddie Bauer, and K2 for always providing me with the best gear in the industry.